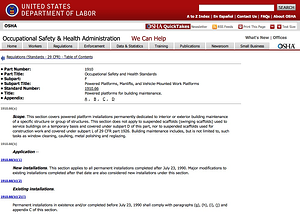 Fall rescue plans protect your employees from dangerous falls by helping to ensure:
Employees are educated on potential hazards.
Safeguards are in place (i.e. fall protection systems).
Safety regulations are adhered to and enforced.
Rescue procedures are established.
Because of this, federal law mandates that employers "develop and maintain written fall protection and rescue procedures for every location where an active fall protection system is used to control a fall," according to the American National Standards Institute (ANSI) Z359.2-2007.
To keep your employees safe and your business compliant, consider the 4 areas below when drafting your fall rescue plan.
1.) Fall Protection Safeguards
OSHA 1910.66 subpart F states: "The employer shall provide for prompt rescue of employees in the event of a fall or shall assure the self-rescue capability of employees."
Your fall protection plan should make certain that fall protection safeguards are in place and employees are trained on how to properly use them.
In it, detail when and how specific equipment—e.g. guardrails, fall restraint systems, warning line systems, etc.—needs to be used, who is responsible for keeping equipment in working order, and enforcement procedures to ensure compliance.
For more details on specific equipment, and to make sure all safety precautions are followed, see IHS' blog post, Commercial Roofing Fall-Protection Equipment Checklist.
2.) Roles and Responsibilities
Well-managed fall protection programs establish clear roles and responsibilities for employees on the roof. Typically, duties are assigned based on the following roles:
Program Administrator: This individual is responsible for developing, implementing and evaluating the overall plan. He or she is responsible for restricting specific tasks to "competent," "qualified" or "authorized" persons.
Qualified Persons: Individuals with the knowledge, training or experience to solve problems related to the subject at hand, usually resulting from their degree, certificate or professional standing. These workers are responsible for training and managing competent persons.
Competent Persons: People who are able to identify workplace hazards and have the authority to promptly eliminate them. Competent persons are typically responsible for supervising and training authorized persons.
Authorized Persons (also known as Designated Persons): Workers approved by the employer to perform a specific task.
Your plan should designate approved responsibilities for each role in inspection, setup, execution and rescue scenarios.
3.) Rescue Procedures
As detailed in ANSI Z359.2-2007 Section 6.1: "The employer shall provide prompt rescue to all fallen authorized persons."
To do this, you must have written rescue procedures as part of your plan—prepared and maintained by a competent person. These plans should include:
Procedures for assisted and self-rescue for all fall scenarios.
Equipment that should be used in each rescue.
When and how to call emergency services, if required.
Notification and reporting requirements to document the fall.
4.) Program Effectiveness
Put mechanisms in place to evaluate your program on an ongoing basis. When reviewing, pair objective data, such as number of falls and response times, with onsite audits and staff feedback to get a truly comprehensive look at success.
For a sample fall protection plan, see this one from the United States Army. What does yours include? How do you make sure your employees are safe from fall hazards? Share your experiences below.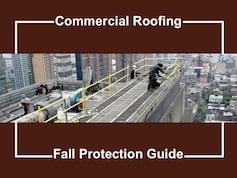 An in-depth look at OSHA fall-protection regulations and the roofing equipment you need to stay both safe and compliant. Download this valuable reference guide for free here.