When reroofing or removing an existing drain, a replacement drain needed. This is where retrofit drains are used, as they replace the broken or corroded roof drains easily with almost no construction.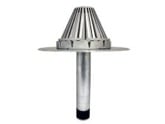 Retrofit drains are simply inserted into the existing drain pipe, and the drain's water tight rubber seal expands outward against the existing pipe. The pressure from this seal stops water from flowing between the retrofit drain and pipe wall.
How a Retrofit Roof Drain Works in Your Drainage System
Retrofit roof drains are typically easy to install and provide near identical benefits as most normal roof drain systems. They prevent leakage and form a connection between the plumbing and drainage systems for water to flow through in place of an old drain.
When an old or broken drain is removed from the roof, a retrofit roof drain is inserted within the existing drain pipe. From there, a watertight back-up seal works to prevent leakage from back flow pressure. Depending on your retrofit drain, clamping rings may also be used to secure the drain to the piping.
Installing Your Retrofit Roof Drain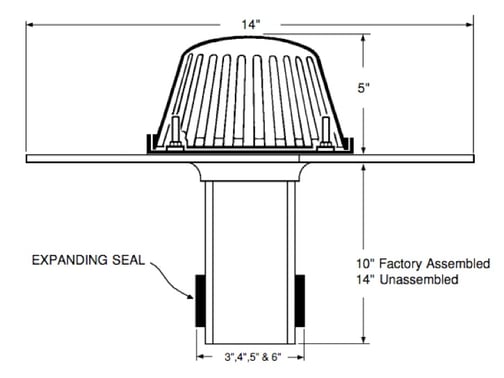 The installation for your retrofit roof drain will depend on the specific manufacturer; however, there are some elements that are consistent across retrofit drains. Consider the following steps as a guide to installing your retrofit drain.
Remove the broken drain

from the drain pipe. Because the retrofit roof drain will sit directly inside the pipe, roofers should also clear the pipe and surrounding area of debris.
Attach the seal

to the roof drain accordingly to prevent water leakage and other debris from entering the drain pipe.
Insert the retrofit roof drain

into the existing drain pipe and tighten the protective seal.
Adjust the retrofit roof drain flange

to lay flat on the roof surface. If uneven, debris could enter the roof drain pipe and prevent water flow.
Secure the clamping ring

(if applicable) to the retrofit drain to prepare for the drain strainer.
Add the drain strainer, which comes in a variety of materials, to prevent debris from entering the pipe. Make sure all bolts, screws and rings are secure on the drain.
For a one-stop shop for your insert drain needs, look no further than Hy-Tech's Insert Roof Drain selection. You can sort through roof drains by manufacturer, including Olympic, Marathon, Portals Plus and more.