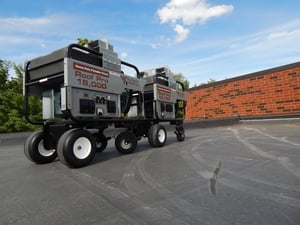 In an effort to cut down on air pollution, national and state organizations have instituted legislation that regulates the amount of carbon released into the atmosphere by engines.
While first established to monitor on-road vehicles, federal regulations were added in the 1990s for small off-road engines (SOREs) with less than 25 horsepower—such as those found in portable generators.
For this reason, as a commercial roofing or construction contractor, it's important to understand the carbon-emission laws in your area to ensure that your equipment is compliant. Violation of these regulations can result in fines up to $10,000 per day depending on your number of offenses.
Carbon Emission Regulations
Carbon emissions and other air pollutants are governed by two main bodies:
1.) Environmental Protection Agency (EPA)
As the national standard, all manufacturers intending to sell in the United States must comply with EPA regulations. Before a new engine is introduced to the market, it needs to go through a certification process to ensure it meets required quality levels.
For a complete overview of regulations and guidance on small gasoline equipment, like portable generators, visit the EPA site.
2.) California Air Resources Board (CARB)
The state of California enacted its own set of emission regulations, which are more stringent than those in place by the EPA.
Individual states have the option to use either EPA or CARB regulations, and several states actively enforce the latter.
Review all compliance requirements for SOREs on the CARB website.
Portable Generator Purchasing Tip
To keep matters simple, we recommend purchasing generators marked as "CARB compliant" for all your roofing and construction needs. By meeting the strictest standard, these generators will be legal anywhere in the United States, and also the safest for the environment. That said, at a bare minimum, make sure your generator is EPA certified.
To check for compliance, simply review the product label or the manufacturer's website. If they meet specifications, manufacturers will promote it on their packaging and sales collateral.
While compliant engines may cost more than alternatives, durability and fuel efficiency typically improve, according to the EPA. These savings can help offset added expenses over the lifetime of the equipment.
If you have additional questions regarding carbon regulations on your roofing equipment, please contact one of our roofing experts at 800-635-0384 or info@hy-techroof.com.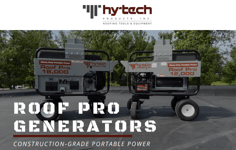 Made in the U.S.A., Hy-Tech's Roof Pro Family of Portable Generators are the first generators designed by roofers for the roofing and construction industries. Download the Hy-Tech Roof Pro Portable Generator Brochure to learn more.