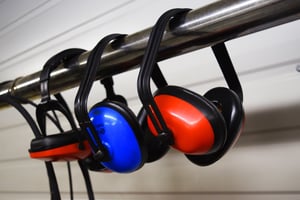 When evaluating commercial or industrial portable generators, it's important to consider their noise levels, as many cities have local noise ordinances in place with which construction equipment must comply.
Generally speaking, noise levels are measured in decibels (dBA), a metric commonly listed on generator specification sheets. Noise levels can vary significantly based on generator size and the manufacturer, ranging anywhere between mid-50 and mid-80 dBA. So, how do you know exactly how loud is too loud? We're here to help.
Decibel Levels of Common Sounds
Below we compare dBA levels to common sounds, giving you context to portable generator labels. As you'll see, the lower the dBA; the quieter the noise is.
Tips When Comparing Portable Generators
Start by searching for your city's noise ordinance or code. NoiseFree.org offers a list of city ordinances for some of the largest cities in the country. You may also try contacting your city hall directly.
Keep in mind that dBA is a variable metric based on distance from the source. Many generator manufacturers measure from approximately 23 feet (7 meters). For an apples-to-apples comparison, make sure the dBA ratings of all the generators you're comparing are measured from similar distances.
Finally, compare the noise levels of generators with similar power capacities (measured in either watts or amps) for the most accurate assessment. This ensures that you get the quietest generator at the power output you require.
For example, looking at some of the top brands in the industry, many of the mid-to-large sized portable generators (6,500 to 14,000 Watts) range between mid-70 and mid-80 dBA.
Note: When comparing labels, you may also see the sound pressure level (LwA) reported. This is a European standard for noise.
If you have additional questions, please contact one of our roofing experts at 800-635-0384 or info@hy-techroof.com.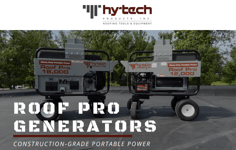 Made in the U.S.A., Hy-Tech's Roof Pro Family of Portable Generators are the first generators designed by roofers for the roofing and construction industries. Download the Hy-Tech Roof Pro Portable Generator Brochure to learn more.