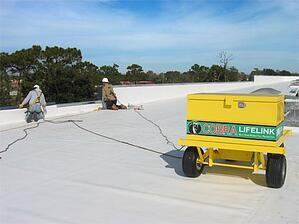 According to OSHA, roofing contractors working near a fall hazard 6 ft. or higher must be protected by a guardrail system, safety-net and/or fall-arrest system.
For those companies that utilize fall-arrest systems, it is absolutely essential their employees understand the distinct difference between fall arrest and fall restraint, especially when tying off to a fall-protection cart.
Fall Arrest vs. Fall Restraint
Fall-Arrest Systems: These systems are designed to stop a contractor after he or she has fallen over the side of a roof. According to OSHA, an employee must "be rigged so that [he or she] can neither free fall more than 6 feet nor contact any lower level."
Fall Restraint Systems: These systems are configured to restrict how close an employee can get to a potential fall hazard.
While both fall arrest and fall restraint systems include similar regulations for harnesses, lifelines, shock-absorbing lanyards, snap hooks and dee-rings, their tie-off requirements are very different.
Fall Protection Cart Tie-Offs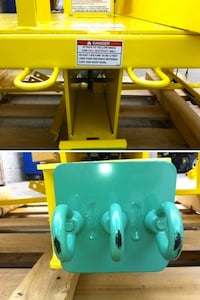 Garlock Cobra Multi-Man
Top Dee-Rings: Fall Restraint
Bottom Rings: Fall Arrest
Fall-protection carts, like the Garlock Cobra Multi-Man, are ideal fall protection tie-off points, as they satisfy OSHA requirements without unnecessarily penetrating the roof substrate, and can be easily moved around a roof deck as work progresses.
Many of these carts offer ring tie-offs for both fall-restraint and fall-arrest systems. As described above, there are very different demands placed on each of these cart tie-off points.
The force of someone falling causes the fall arrest ring to deploy a large claw or hook that drives into the roof surface and locks the cart in place, quickly stopping a fall. Fall-restraint rings do not deploy any cart locking mechanism. Instead, they rely on the cart's weight to stop someone when they've reached the end of their lifeline, which should be shorter than the distance to the fall hazard.
If one or more contractors working at a roof edge are tied off to fall restraint rings, the cart's weight alone may not be enough to stop their fall. Depending on the fall force, this could result in serious injury or death for the individual or individuals who fell, as well as anyone else tied off to the cart, since the cart may be dragged towards the roof edge.
Make sure anyone working on your roof knows the difference between fall arrest and fall restraint, and more importantly, how to properly tie themselves off to fall protection carts like the Garlock Cobra Multi-Man.
If you have any questions, or would like any clarification on this topic, please contact Hy-Tech Products at 800-635-0384 or info@hy-techroof.com.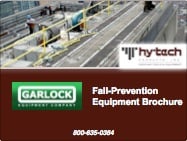 Garlock safety equipment is built to provide rock-solid fall-protection for your crews. Learn about their perimeter guardrails, warning line systems, skylight and hatch kits, and fall-protection carts. Download Hy-Tech's Garlock Fall-Prevention Brochure to learn more.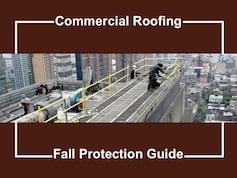 An in-depth look at OSHA fall-protection regulations and the roofing equipment you need to stay both safe and compliant. Download this valuable reference guide for free here.