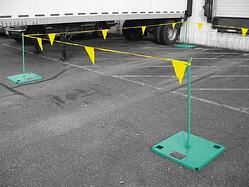 Many contractors and companies don't take fall protection seriously, even though falls are a major cause of fatalities and injuries in the construction industry.
Effective fall protection on any roof begins with alerting workers visually to roof edges and fall hazards. This is done with a warning line system.
This post explains more about warning line systems, their uses and considerations when installing one.
Please Note: Warning line systems are not the same as perimeter protection systems, as they are
not designed to stop or slow a worker's fall
. Instead, they create a visual warning to alert workers of a hazard and should only be used as such.
Proper Use of a Warning Line System
A warning line system is composed of ropes, wires or chains that are supported by stanchions and flagged along their length with highly visible material (such as brightly colored flags). By lining a roof edge or open area with a bright, visible perimeter, the warning line system alerts workers to a potential hazard.
According to OSHA, warning line systems should be erected "around all sides of roof work areas." OSHA requires that all workers be tied off to a fall arrest system while installing a warning line. OSHA also requires the following when you erect a warning line system.
The line's lowest point must be no less than 34 in. from the roof deck, while its highest point must be no higher than 39 in.
When mechanical equipment is not being used, the line must be erected no less than 6 ft. from the roof edge.
The warning line must be tightly and securely attached to a system's stanchions so that when you pull on the warning line, no slack is taken up in the adjacent section before the accompanying stanchion tips over.
What to Consider When Purchasing a Warning Line System
When shopping for a warning line system, there are several OSHA requirements that equipment must meet. Either check for yourself or ask the manufacturer if the system has:
Flags that are no more than 6 ft. apart, and made of highly visible material.
Line, rope, wire or chain has a minimum tensile strength of 500 lbs.
Line, rope, wire, chain or stanchions are capable of resisting a force of at least 16 lbs. without tipping over. The system must be able to withstand this force when it is applied horizontally 30 in. above the roof in the direction of the roof edge.
If you have any questions about warning line systems, please contact Hy-Tech's fall protection equipment experts at 800-635-0384 or info@hy-techroof.com.
Interested in learning more about OSHA commercial roofing fall protection requirements? Stay safe and compliant by downloading our free Commercial Roofing Fall Protection Guide.