What are Scupper Drains?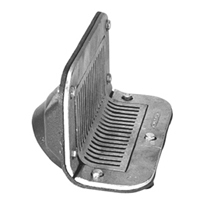 Scupper Drains funnel roof water directly out of a parapet wall via a downspout nozzle or the piping in between. The water flows into an external drain leader on the exterior of the building or a drain leader in the parapet wall.

These roof drains come in two variations—Drains and Sleeves. The primary distinguishing characteristic is drains sit on the roof deck against a parapet wall, whereas sleeves are installed on the parapet wall.

In addition, Parapet Scupper Sleeves only drain to the exterior wall. It is basically a pipe that goes through the parapet wall to a downspout Nozzle. The nozzle is usually designed into the sleeve.

Parapet Scupper Sleeves are often used as overflow scupper drains as their height on the wall can be adjusted as desired.


How to Measure a Scupper Drain Ring?

When measuring a scupper drain ring to find a replacement, there are three critical dimensions to measure:
Left outside edge to right outside edge.
Out from the parapet wall to the outside edge.
Up from the roof deck to the upper outside edge.
The number of slots on the drain ring is also a distinguishing characteristic.

It is worth noting that it's not uncommon for rings to be drilled on-site, and all ring dimensions change for each manufacturer when the drain's outlet size is more than 4 inches.

Parapet scupper drains can usually be installed with the outlet either vertical or horizontal. The size charts below assume a horizontal outlet.

Parapet scupper sleeves rarely have their rings replaced. Usually, if the ring needs replacing, the entire sleeve should be replaced.
Scupper Ring Size Chart
To help identify replacement scupper drain rings, below is a list of all known drain rings and their corresponding dimensions. If you need assistance, please call us at 800-635-0384.
Image
Manufacturer Model #
Outlet Sizes
Left to Right
Out From Parapet Wall
Up From Roof Deck
# Slots
Notes
Josam 24700
032460
DRP-JOS0049
Oblique Grate
2"-4"
11"
4-1/2"
6-1/2"
4
Josam 24700
032530
Z Code
Oblique Grate
5" & 6"
13"
5-1/2"
7-1/2"
4
Josam 24720
032460
DRP-JOS0049
Flush Grate
2"-4"
11"
4-1/2"
6-1/2"
4
Ring and grate are one piece
Josam 24720
032530
Z Code
Flush Grate
5" & 6"
13"

5-1/2"

7-1/2"

4

Ring and grate are one piece

Josam 24900




032460




Z Code




Oblique Grate

2"-6"

12"
6"
12"
6
Ring and grate are 1 piece
135° angle grate
Mifab R1300, R1310, R1320 & R1330
Z Code

2-4"

7-1/2"

6-3/8"

6-3/8"

4




(per piece, 8 total)

2-piece ring - upper and lower ring are same size

Mifab R1300, R1310, R1320 & R1330
Z Code

6" & 8"

12-1/2"

8-3/8"

8-3/8"

4




(per piece, 8 total)

2-piece ring - upper and lower ring are same size

Olympic SCUPRD Retro Scupper Drain
DRP-OLY1050
8"

7-1/2"

7-1/2"

4
Ring and grate are 1 piece. Slots are on upper and lower ring only
Smith 1510, 1520, 1530 & 1540
DRP-STH0007
Oblique & Flush Grate

2"-4"

11"

4-1/2"

6"
4
Smith 1510, 1520, 1530 & 1540
DRP-STH0008
Oblique & Flush Grate

5" & 6"

12"

5-1/2"

7-3/4"

4

Smith 1560 & 1570
Z Code

2" & 3"

10"
3"
3"
8
Ring and grate are 1 piece

Smith 1580
Z Code
Oblique Grate

2"-6"

12"
6"
12"
6

Ring and grate are 1 piece




135° angle grate

Wade 3270 & 3290
3270 Oblique Grate - DRPWAD1550
3290 Flush Grate - DRPWAD1551

2"-4"

11-3/8"

4-11/16"

6-3/16"

4
Sold as top assemblies, ring & grate
Wade 3270 & 3290
Z Code
Oblique & Flush Grate

5", 6" & 8"

13-1/2"

8-3/8"

8-3/8"

4

Wade 3271
Z Code
Oblique Grate

2"-6"

12"

6-1/2"

12"
6
Ring and grate are 1 piece
135° angle grate
Watts RD270 & RD290
DRP-WAT0006
Oblique & Flush Grate

2"-4"

11"

4-3/4"

6-1/4"

4
Zurn Z187
DRP-ZRN0007
Oblique Grate

2"-4"

7-1/2"

6-3/8"

6-3/8"

4
(per piece, 8 total)
2-piece ring upper and lower ring are same
Zurn Z187
DRP-ZRN0008
Oblique Grate
5", 6" & 8"

12-1/2"

8-3/8"

8-3/8"

4
(per piece, 8 total)
2-piece ring upper and lower ring are same

Zurn Z189
Z Code
Flush Grate

2"-4"

11"

4-3/4"

6-1/2"

7
(4 on upper, 3 on lower)
2-piece ring